Advanced 3D SOX


These socks allow the foot to land with the ankle fixed in place and convert bounce from the track into speed.

These TRACK RACE MODEL socks fix the ankle in place before and after landing and convert bounce from the track into speed to realize smooth running.
Cooma has adopted the company's unique, superb fit 3D SOX system and lightweight fibers based on modified cross-section polyester for all parts of these socks.
The ultra lightweight (9 grams per sock) knitting structure communicates foot feeling directly to the runner and gives a sense of unity like skin.
Furthermore, TRACK RACE MODEL socks are socks for sprinters that have adopted a strong-grip knitting structure that controls slippage inside the shoe and allows the runner to tread firmly. Quality: Nylon, cotton, polyester, acrylic, polyurethane
Colors: Black, white
Sizes: 22 - 24 cm, 24 - 26 cm, 26 - 28 cm
Made in Japan

Functionality that maintains a sense of fit and stability in unity with the foot supports consistent performance at all times.

Runners can continue running while changing their pace (speed) as little as possible from the start of the race to the finish.
Support positioned around the ankle and support for the foot arch maintains running form and steady performance, which tend to welter in the second half of a race when stamina is lost easily, while preventing the falling of the arch, which functions as the spring of the foot.
Cooma has added a light, modified cross-section polyester with excellent absorbency and quick-drying properties that maintains the runner's sense of dryness to the base fiber, suppressing discomfort for the runner arising from sweat.
These are socks for road racing that have adopted a strong-grip knitting structure that allows the runner to tread firmly on the soles of the feet. Quality: Nylon, polyester, cotton, polyurethane, acrylic
Colors: Black, dark grey, light grey, purple (22 - 24 cm only)
Sizes: 22 - 24 cm, 24 - 26 cm, 26 - 28 cm
Made in Japan

These socks are enriched with safety functions to tough out a punishing race and unify with the athlete.

These ULTRA RACE MODEL socks have enhanced functions to help the athlete tough out ultra long distance running right to the end.
Cooma's unique 3D SOX system matched to the shape of the foot improves the sense of fit, and suppresses blisters and sore feet that occur easily due to the friction between socks and the surface of the skin. Cooma has adopted a cushion pile for the toe-end and the ball of the big toe, which are subject to a kicking force, and the heel, which also takes heavy impacts, to lessen the burden on the foot during long periods of running.
Ankle stability support preventing inversion, which tends to occur due to accumulated fatigue, and arch support, which suppresses reduction of the power to kick out, helps to maintain a steady performance and guide the runner to the goal. Quality: Polyester, cotton, acrylic, nylon, polyurethane
Colors: Black, dark grey, light grey, pink
Sizes: 22 - 24 cm, 24 - 26 cm, 26 - 28 cm
Made in Japan

These are trail running socks to "ourney over mountains" that emphasize cushioning and stability characteristics.

Support positioned in the ankle maintains the performance required for complicated foot movement during ascents and descents of mountain paths and roads and to clear obstacles safely.
In order to protect the foot from knocks to the back from rocks and tree roots, etc., Cooma has adopted an impact moderating cushion pile for the toe-end, the balls of the big and small toes, and the heel, and a fit pile for the ankle area to improve the sense of cohesion with the shoes, prevent the entry of small stones, etc., and prevent blisters.
Split toe specifications and grip knitting on the sole allow the runner to get a firm grip on the ground when running up and down slopes. Quality: Cotton, acrylic, polyester, nylon, wool, polyurethane
Colors: Black, dark grey, navy blue
Sizes: 22 - 24 cm, 24 - 26 cm, 26 - 28 cm
Made in Japan

These socks lessen the impact on the foot of continuous movement for long periods and support the foot against the decline of function due to fatigue to protect the alpinist safely.

As the material base of these socks, Cooma has adopted a wool material with the characteristics of absorbing sweat quickly and expelling moisture gradually in consideration of the moisture transmission speed of alpine climbing shoes made using moisture transmission-preventing materials, etc.
Cooma has reinforced areas that will wear and break down easily (toe-end, heel area) with nylon to improve their strength.
Fit characteristics based on the company's unique 3D SOX system, and stability based on support positioned in the ankle area and arch reduce the burden of traversing mountains over long periods to protect the alpinist safely. Quality: Wool, acrylic, nylon, polyester, polyurethane
Colors: Dark brown, black, charcoal, purple (22 - 24 cm only)
Sizes: 22 - 24 cm, 24 - 26 cm, 26 - 28 cm
Made in Japan
Advanced, innovative technology
Sets and maintains the appropriate ankle angle so that runners can display their power in every kind of race.
In short track running, these socks let the runner land with the ankle angle set to 1200ー to 1300ー to convert the bounce from the track surface speedily.
The difficlut-to-stretch knit structure positioned on the side prevents inversion sprains while ensuring the maximum range of movement required for exercise.
In addition, this characteristic stabilizes the ankle, suppresses the disturbance of trajectory arising from fatigue and allows the user to perform.

Cooma has achieved greater weight reduction than ever while keeping support functions as they were.
Cooma has adopted lightweight fibers based on modified cross-section polyester for all parts of these socks.
This is ultra lightweight technology to "un fas", matched with a many-thread knitting structure that combines breathability.

The high friction knitting structure suppresses slippage between the sock and shoe and between the shoe and skin allowing the runner to tread firmly without losing power.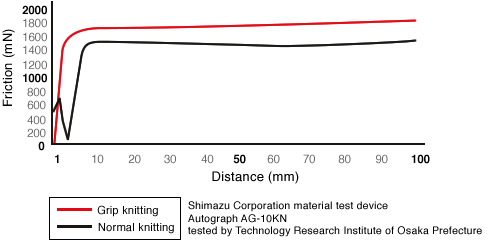 To top of this page